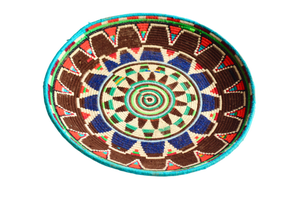 $

75.00
This vintage basket handcrafted by skilled artisans in Morocco will instantly enliven any space with its graphic motifs and colour combinations. Fun and functional, they can be wall-mounted for added effect.
- VINTAGE, handmade in Morocco
- Palm fibre wrapped in cotton
- Diameter 49cm/height 4.5cm (approx)
- One-of-a-kind design
Please note...
These beautiful baskets are handmade by Berber women in rural villages in Morocco and they are vintage. These vintage handicrafts may show traces of use.